>> Subscribe to our free bi-weekly enews
There's a lot of confusion out there about what you can eat when you have type 2 diabetes. Eggs happen to be one of those foods.
In fact, the nutritional misconceptions about eggs runs far and wide.
For instance, you might have been told not to eat them, especially the egg yolks, because they are high in cholesterol, and therefore, they will raise your cholesterol levels.
Well, you may be surprised to learn that you can happily eat the eggs and the yolks without any harmful effects to your health.
In fact, eggs are a super healthy food that make a perfect addition to your diabetes diet. Read on to discover more.
Egg Nutrition Facts
1 large egg, including the yolk, contains:
Macronutrients
Energy: 300 Kj/ 72 cal
Protein: 6.3g
Fat: 5g

Saturated: 1.5g
Monounsaturated: 1.8g
Polyunsaturated: 0.9

Carbs: 0g
Micronutrients
Calcium: 28mg
Phosphorus: 99mg
Potassium: 69mg
Folate: 24ug
Vitamin A: 270IU
Vitamin D: 41IU
Cholesterol: 184mg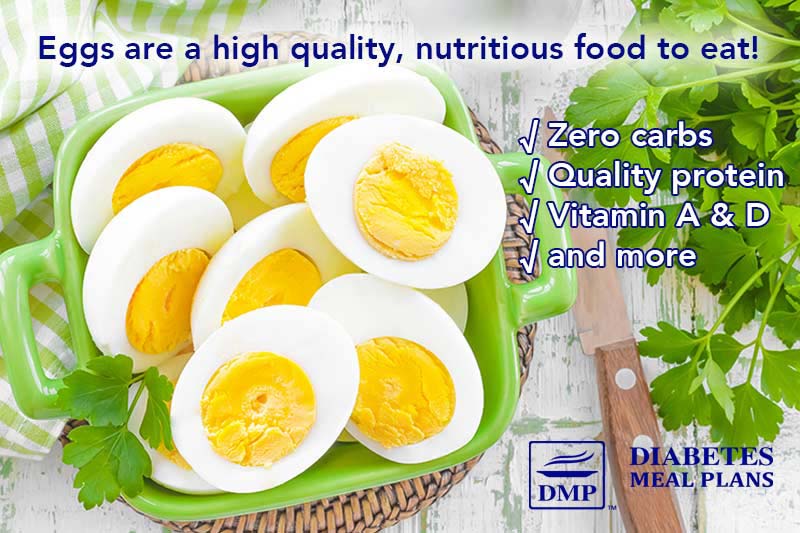 Eggs are High In Nutrients
After looking at the nutrition facts you may have noticed: eggs are a nutritious source of protein.
Eggs are low in carbohydrates, which means, if you eat eggs they are not going to raise your blood sugar levels.
The egg yolks in particular are actually the most nutritious part of the egg, containing most of the micronutrients – calcium, choline, folate, vitamin A and vitamin D – among others.
While eggs do contain fat, including saturated fat and cholesterol, eating eggs does not raise cholesterol, nor do they cause heart disease. In fact, it's quite the opposite – eggs have been found to have heart healthy benefits.
MYTH BUSTER: Cholesterol in foods does not automatically equal higher cholesterol levels.
Cholesterol & Fat Myths Exposed
Yes, eggs do contain cholesterol but consuming cholesterol in foods does not automatically equate to more cholesterol in your body.
You see, your liver produces most of your body's cholesterol internally. By nature of the way your metabolism functions, things like sugar or excess carbohydrates, promote more cholesterol production that an egg.
Yes eggs do contain some saturated fat but you'll notice in the nutrition data that the predominant source of fat in eggs is monounsaturated fat. Monounsaturated fat is known to be great for heart health.
To blow these myths out of the water, let's look at some research facts:
A clinical trial (2015) conducted in people with type 2 diabetes by Dr. Nicolas Fuller from Sydney University found that eating 2 eggs per day, 6 days per week had no influence on cholesterol levels over a 3 month period, compared to those with an egg intake of less than 2 eggs per week. The study also found that consuming eggs can help stabilise your appetite and keep you fuller longer.
Dr. Fuller's team also did a longer follow up study over one year (March 2018). The results found that high egg consumption (12+ eggs per week) compared to low egg consumption (one egg week) had no impact on any of the heart disease risk factors such as cholesterol, inflammation or oxidative stress.
Another clinical trial (2011) found similar results. Half of the participants consumed a high cholesterol diet (590 mg/d) with daily consumption of 2 eggs, the other group consumed a low cholesterol diet of 213 mg/d. The results showed no difference in LDL 'bad' cholesterol. Both groups lowered total cholesterol. But only the high cholesterol egg group saw their HDL 'good' cholesterol rise, while it decreased in the low cholesterol group.
A systematic review of clinical trials (2017) again confirmed the benefits of eggs, concluding: egg consumption has no impact on cardiovascular risk factors – total cholesterol, LDL cholesterol, triglycerides, fasting glucose, insulin or C-reactive protein.
And yet another review (2018) found that all well-designed clinical trials to date have found zero association between egg consumption and risk of cardiovascular disease or diabetes risk.
The evidence seems conclusive: consuming eggs either has no impact or improves cholesterol, and has no impact on heart disease.
What About Prediabetes and Eggs?
In terms of prediabetes and risk of developing diabetes with egg consumption, the research says there's likely no greater risk.
In a study (2014) of over 50,000 researchers found no connection between egg consumption and development of diabetes. In fact, women who consumed more eggs had 23% lower odds of type 2 diabetes risk.
Therefore, the same applies – enjoy your eggs and the yolks!
How Many Eggs A Day?
The answer appears to be that you can eat eggs every day if you want to – studies indicating 6 to 21 eggs a week is perfectly fine.
The Heart Foundation has a more conservative recommendation for people with type 2 diabetes – a limit of 7 per week. They have drawn these conclusions from prospective studies, which only suggest an association. In addition, the studies suggest only a limited number of diabetes people are assessed.
In contrast, the clinical trials all show no harm comes from eating eggs. Therefore, in my opinion, the research is not overly strong to support any limit on eggs.
Eggs are a complete and natural nutrient dense food source, so go ahead and enjoy your eggs, including the yolks!
Conclusion
There are many misconceptions about eggs, particularly in terms of their higher saturated fat and cholesterol levels. These misconceptions have been proven wrong by research time and time again.
Eggs fit perfectly in a healthy diet. They are a low carb, high protein and healthy fat-filled food. They also provide a rich source of valuable micronutrients. The research demonstrates they may provide many health benefits, as opposed to any negative effects.
Feel free to add eggs to your meal plan on a regular basis – including the egg yolks!