>> Subscribe to our free bi-weekly enews
A ripe avocado has so much potential – you can eat it on toast, mash it into a guacoamole dip, or even blend it into a smoothie. It's so versatile, no wonder it's such a beloved fruit (and yes, it is technically a fruit)!
But a common question we get: is avocado good for diabetics?
Plus, does avocado have sugar? Can a diabetic eat avocado everyday? Will an avocado affect blood sugar? And does an avocado offer benefits for people with type 2 diabetes?
Let's look closer…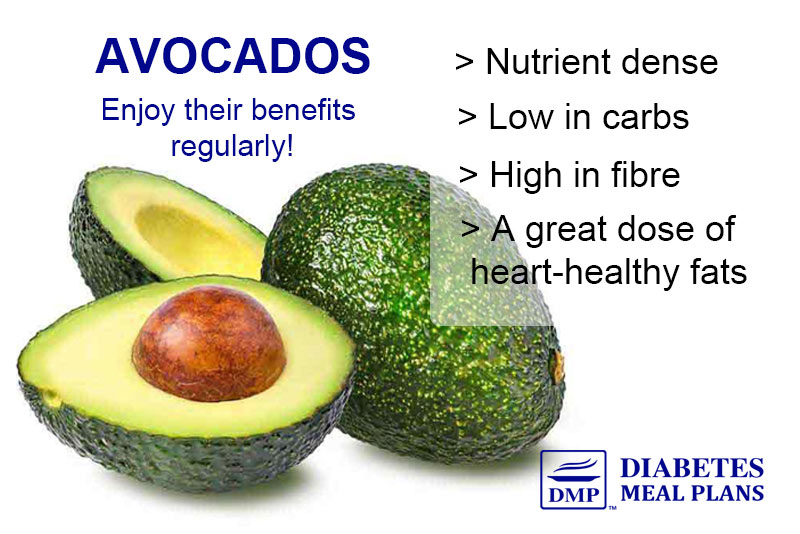 Avocado Nutrition Facts
Macronutrients
One fresh hass avocado (~135g) contains:
Kilojoules/Calories: 950/227
Carbohydrates: 2.4g
Sugar: 0.4g
Protein: 2.7g
Total Fat: 21g
Saturated Fat: 2.9g
Polyunsaturated Fat: 2.5g
Monounsaturated Fat: 13.3g
Fibre: 9.2g
Micronutrients
Half an avocado contains about 10% of your daily need for vitamin B6 and 12% your daily need for vitamin C.
It also contains the fat soluble vitamins A, E, and K, as well as important minerals like magnesium and potassium.
Does an avocado have sugar?
Avocado contains a very small amount of sugar 0.4g and a small amount of carbohydrate 2.4g. Plus, avocado contains a whopping 9.2g of fibre! This makes avocado a perfect food for keeping blood sugar levels in check.
Will an avocado affect blood sugar?
For most people, avocados won't impact blood sugar levels all that much because they are low in carbohydrates (sugar) and high in fat. As you can see by the chart below, fat has little influence on blood sugar compared to carbohydrates.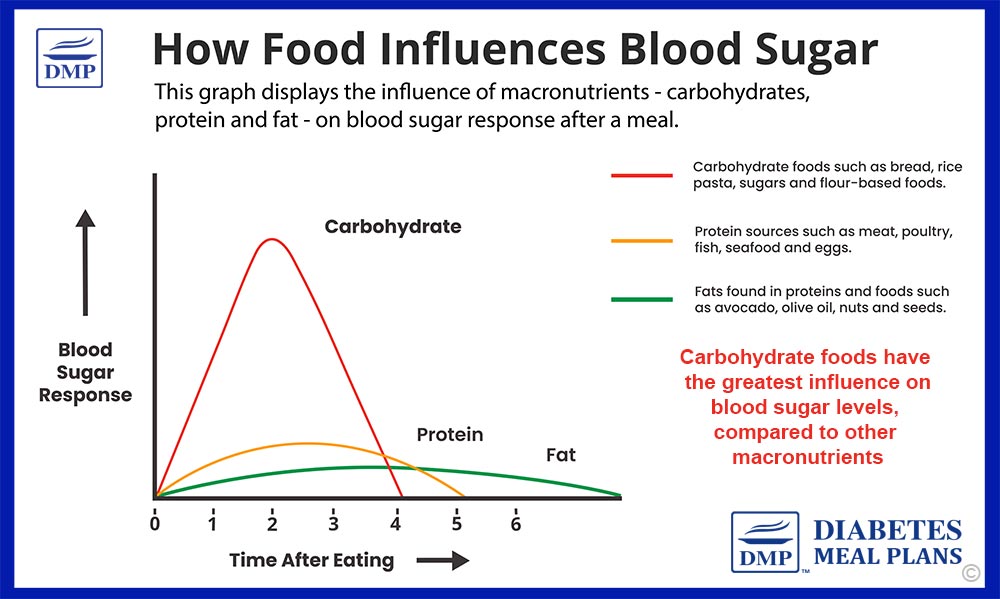 Can a diabetic eat avocado everyday?
Yes, people with diabetes can eat avocado everyday!
The average person usually eats 1/2 an avocado at one sitting and that's perfectly fine. But if you want to eat a whole avocado in a sitting, that's great too.
Although avocados are high in fat, it's the kind of fat your body loves – monounsaturated fat!
Monounsaturated fats are heart-healthy and are known for balancing blood sugar and cholesterol levels. These kinds of fat also have natural anti-inflammatory benefits as well.
Avocado and Diabetes: Research Facts
Improvements in heart health
Improvements in glycaemic control, insulin and weight
Avocados are high in both soluble and insoluble fibre, which have been shown to improve glycaemic control, balance insulin levels, and lower blood lipids in patients with type 2 diabetes.
Research (2019) concluded that monounsaturated fats are preferable for improving fasting insulin and glucose levels.
Although avocados are high in fat and are calorie-dense. However, consuming lots of avocado does not have a negative impact on weight loss or on cardiovascular health. In fact, the opposite is true: body weight, BMI, and waist circumference were found to be lower in people who regularly consume avocados.
Avocado Benefits for Diabetes
As we saw from the research above, avocado may provide benefits to people with diabetes in terms of heart health with improvements in cholesterol and blood pressure.
Avocados may help improve blood sugar and insulin levels. And eating avocados won't make you fat – that's an old myth that you can let go of.
Avocados are a very healthy nutrient dense food, so add avocado to your regular menu and enjoy!
Here's some ways to do that…
10 Ways to Enjoy Avocado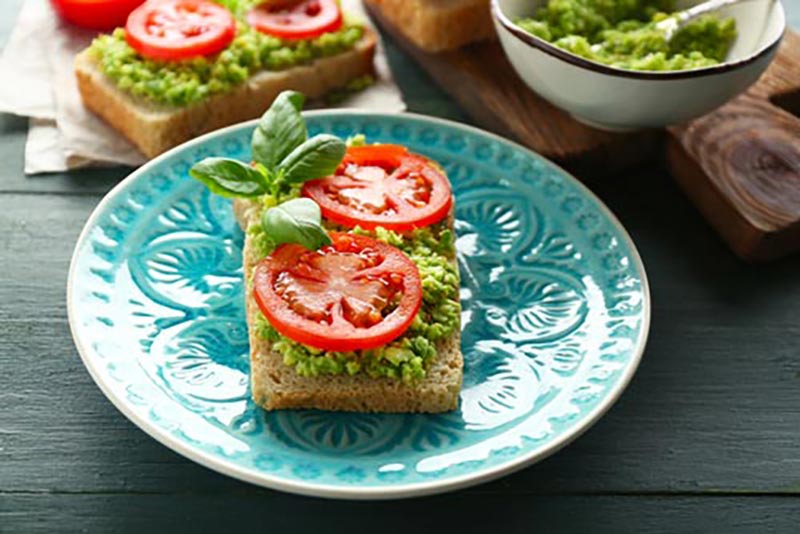 Top your low carb toast with avocado and tomato (don't forget to season with salt, pepper, or spices!)
Place some avocado slices inside a veggie-filled omelette for an extra-filling breakfast
Mash some avocado with a small tin of tuna, a pinch of salt and pepper, and a dash of balsamic vinegar for an instant energy-boosting snack or meal
Make a homemade guacamole and dip in carrot or celery sticks
Scoop out a little of the avocado, just enough to make room for a cracked egg. Crack the egg in the middle then bake it for a delicious breakfast. You can stuff them with other stuff too!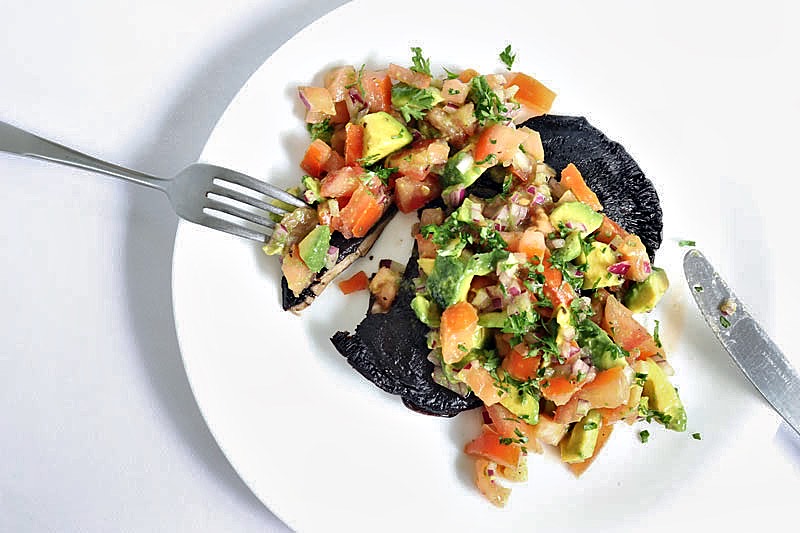 Blend some avocado, a teaspoon thyme, a little olive oil, and a dash of red wine vinegar together for a dressing that can be used on meat patties, chicken or fish
Just grab a spoon and eat the avocado as it is – so simple and delicious!
Use avocado as the base of a chocolate mousse and enjoy a healthy dessert (you won't believe how sweet and decadent this healthy "superfood" can taste)
Serve some tender pan fried chicken pieces topped with an avocado salsa (diced avocado, tomato, onion, salt, pepper and vinegar) for a perfectly balanced meal
Dice avocado, boiled egg and onion and blend with mayonnaise for a delicious salad