Recently published in Nature's Nutrition & Diabetes journal, Dr Jedha Dening's (DMP Founder) research with results from the randomised controlled trial of the T2Diet Program. 
Read the full publication here.
Here's a short overview:
Title: A web-based low carbohydrate diet intervention significantly improves glycaemic control in adults with type 2 diabetes: results of the T2Diet Study randomised controlled trial
Authors: Jedha Dening, Mohammadreza Mohebbi, Gavin Abbott, Elena S. George, Kylie Ball, and Sheikh Mohammed Shariful Islam
Background/Objectives:
In individuals with type 2 diabetes, low carbohydrate diets, defined as 10-<26% total energy intake from carbohydrate, have shown improved glycaemic control and clinical outcomes.
Web-based interventions can address challenges of accessibility and availability of dietary education and support for type 2 diabetes.
This was the first study in the world to evaluate a web-based low carbohydrate intervention using a randomised controlled trial design.
The study's aim was to determine if the web-based T2Diet Program, alongside standard care, enhances glycaemic control in adults with type 2 diabetes.
Subjects/Methods: A 16-week parallel randomised controlled trial was conducted remotely among the general community, recruiting adults with type 2 diabetes not on insulin aged between 40 and 89 years.
Participants were randomly assigned to either standard care plus the web-based T2Diet Program (intervention) or standard care alone (control).
The primary outcome was HbA1c. Secondary outcomes included weight, body mass index, diabetes medication, dietary intake, and self-efficacy. Data analysis was blinded and used an intention-to-treat approach.
Results: Ninety-eight participants were enrolled, assigning 49 to each group. Eighty-seven participants were included in the outcome analysis.
At 16 weeks, significant differences favouring the intervention group were observed, including reductions in HbA1c, weight, BMI, and diabetes medication requirements.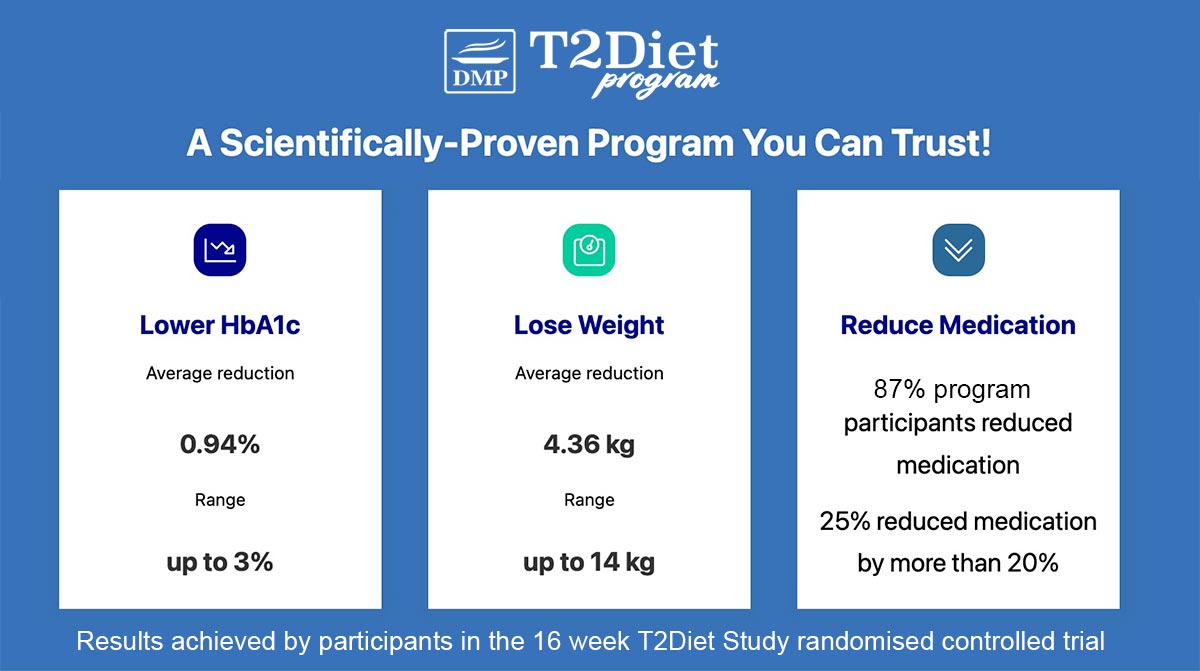 Conclusion: The T2Diet Program, when added to standard care, demonstrated dramatic improvements in glycaemic control, weight, body mass index, and reduced requirements for diabetes medication in adults with type 2 diabetes.
This study presents an important step in evaluating the web-based delivery of a low carbohydrate education program in conjunction with standard care. 
And more importantly, confirms for the first time that well-designed digital dietary interventions are a highly effective method for delivering the dietary education and support that people with type 2 diabetes really need.
Conducting the study remotely enabled the reach to participants from a wide geographical range, supporting improved dietary self-management and health outcomes, which is exactly what we need across the world to improve the health of all people with type 2 diabetes!